Nasco Industries • 3541 N.W. 53rd Street • Ft. Lauderdale FL 33309
Phone: 1-954-733-8665 • Toll Free: 1-800-9-NASCO-9
Fax: 1-954-733-8669 • Email: nasco@bellsouth.net




VERTI-TRAK SIDEKICK FEATHER LITE SYSTEM
THE ULTIMATE TORQUE REACTION ARM
- No tug when pulling down
- No resistance when pushing up
- Stays where positioned
- Maximum coverage area
- Holds tool in vertical position
- Air regulator provides continuous load adjustment
- Maximum tool weight, 8 lbs. (3.5kg) at 100 PSIG (6.9bar)
- No torque reaction up to 40 ft-lbs. (54Nm)
- Check valve holds tool in position when air supply is removed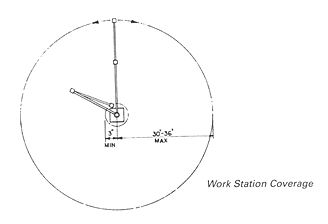 All units include 36" (94cm) high swivel post, coil hose, supply air hose, Feather Lite balancing system, 1/4" x 1/4" and 1/4" x 1/8" steel nipples for air tool hook-up, mounting screws and Verti-Trak Sidekick Torque Reaction Arm.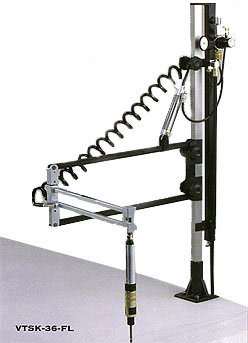 Options: SK-ETM tool mount for use with electric tools or air tools with air supply inlet ports not in line with tool axis.
SK-RAM-VT accommodates any right-angle tool up to 2-1/8" (5.4cm) diameter.