Overhead Runway Sidekick™ Torque Reaction Arms

Nasco Industries • 3541 N.W. 53rd Street • Ft. Lauderdale FL 33309
Phone: 1-954-733-8665 • Toll Free: 1-800-9-NASCO-9
Fax: 1-954-733-8669 • Email: nasco@bellsouth.net







Maximum Flexibility-Unexcelled Workstation Coverage
Order a Complete System with One Part Number
No Torque Reaction from 0-30 ft. lbs.
Will not lock up or seize when sliding
No Lateral Rotational Motion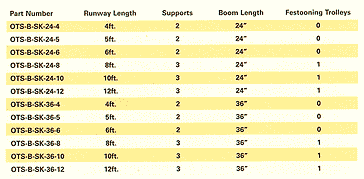 All systems include:

2 or 3 bench mounted supports, 42" high
Runway at specified length with 2 runway stops
E-Z Glide runway trolley
2-5 lb. balancer adjusts height of tool as required
12ft. coil hose
Limp hose of appropriate length
1/4" NPT air fittings mounted to vertical supports
Festooning trolley for systems over 6' long
Swivel air manifold
1/4" by 1/4" and 1/4" by 1/8" steel nipples for air tool hook-up
Runway Sidekick Torque Reaction Arm

Options:

SK-ETM electric tool mount
SK-RAM right angle tool mount
Floor Mount also available

To order use -F- in part number instead of -B-
Height of floor mount system is
86-3/4"