Nasco Heavy Duty Tool Support Systems

Nasco Industries • 3541 N.W. 53rd Street • Ft. Lauderdale FL 33309
Phone: 1-954-733-8665 • Toll Free: 1-800-9-NASCO-9
Fax: 1-954-733-8669 • Email: nasco@bellsouth.net




For Air Impact Wrenches, Staplers, Riveters, and Other Tools up to 3Olbs/13.6kg.
Specifications
- 14 gauge, 1-1/2" sq. support, 42" high, on a 3" x 3" base for bench mounting, screws provided.
- Booms 24" or 36" available. (61-92cm)
- Finish—Safety White high-gloss baked enamel.
- Internal trolley on all booms.
- Floor model has 5" plate with holes for convenient floor mounting.
- Overall floor model height 86-3/4" (220cm).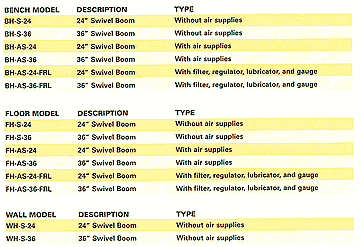 Air supplies include 3/8" male fitting for hook-up to in-house air, built-in air supply, and quick disconnect fittings for air tool. Floor models consist of a 42" high base with 1/4" x 5" sq. welded plate for floor mounting, a 42" top member and a 24" or 36" swivel boom with built-in trolley. Screws for assembling top to bottom posts included. Packed in a single, UPS approved carton.
Options: tool balancers; heavy duty 3/8" x 12' coil hose; bench clamps; 12" or 18" height extender; heavy duty torque reaction arm.
Bench Mounted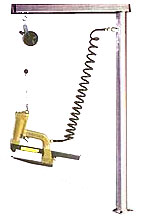 Floor Mounted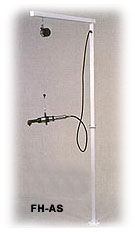 Wall Mounted