Multi-Drop Screw Server
Drops a preset number of pieces into the operator's hand.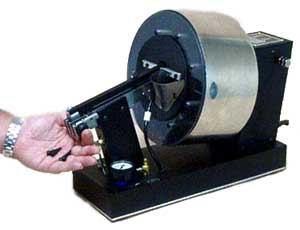 Nasco Industries • 3541 N.W. 53rd Street • Ft. Lauderdale FL 33309
Phone: 1-954-733-8665 • Toll Free: 1-800-9-NASCO-9
Fax: 1-954-733-8669 • Email: nasco@bellsouth.net




Eliminates hand-picking, shaker trays
Ensures quality: no missed screws or incomplete assemblies
Modular design for use with different fasteners, including rivets and nuts
For some applications, hand feeding is the only possible solution. The new Nascomatic Multi-Drop Server helps eliminate the problems that typically arise in these applications, such as:
- Operator hand injuries
- Screws accidentally dropped into assembly
or elsewhere
- Missing screws from assemblies
Pressing the release button drops the set number of screws into the operator's hand - no more fumbling for the right amount of screws, and the operator is provided with a quality check at the end of assembly, ensuring all screws were used.
The Multi-Drop Server is delivered factory-set to your needs for screw size and number to be dropped (up to 12). The modular design allows the use of multiple interchangable track units to accommodate different types and sizes, while using the same base/rotary drum unit. The Server is an extension of Nasco's Model 0010 Screw Presenter, and all of its specifications apply.